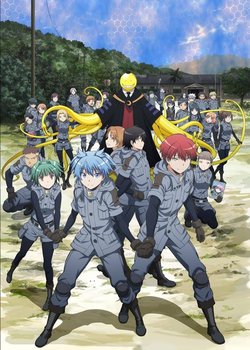 Ansatsu Kyoushitsu 2nd Season
The students return as school is back in session for the second semester. Following their exploits on the island during summer vacation, Class 3-E continues to sharpen their blades with their sights set on their teacher, the slippery Koro-sensei. They have more to worry about than just their teacher, however, as enemy assassins, both old and new, are out for the increased bounty on the octopus' head. Moreover, their rivals in Class A, as well as Kunugigaoka Junior High's fearsome principal, stand to block Class E from achieving academic excellence. With all of these obstacles opposing them, the group must continue to work together in order to overcome their foes and accomplish their goal of successfully assassinating their teacher.
It was an absolutely amazing series
Why am I the only one who hates this series? It is just bland and weird, also has happy music when a fight scene is going on and i dont understand how the characters keep smiling THE WHOLE TIME.