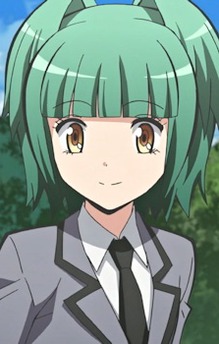 Kaede Kayano
She is one of Nagisa's classmates and close friends, being the one who is mostly seen with him. She hasn't shown any capabilities during her training to become an assassin, and so far has only been shown to discuss Korosensei's weaknesses along with Nagisa. She experiences a slight inferiority complex when it comes to sex appeal, resulting her to get angry whenever there's a woman with big breasts and readily protests.
It is later revealed that she was put in class E after she broke one of the headmaster's belongings.
In chapters 128 and 129 of the manga, and episode 14 of the season 2 of the anime, Kayano reveals that her real name is actually Akari Yukimura, sister of the previous class E teacher Aguri Yukimura. She believes that Korosensei murdered her sister and stole a pair of tentacles in order to avenge her. Kayano hid her tentacles for the entire duration she posed as a student in class 3E, as well as masked her enormous bloodlust by staying near Nagisa Shiota.