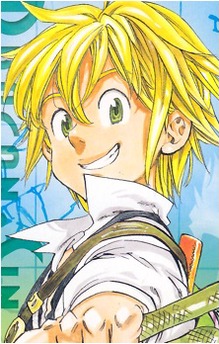 Meliodas
メリオダス
Meliodas the leader of the Seven Deadly Sins and the Sin of Wrath with the symbol of the Dragon. He is the main protagonist of the Nanatsu no Taizai and the owner of the Boar Hat bar.
Despite having the appearance of a child, Meliodas is actually much older, being at least 3000 years old.
Meliodas once came from the kingdom of Danafor where he was the leader of the Holy Knights. When a slave girl named Liz who came from the enemy kingdom came to Danafor for an ambush mission, Liz was then captured by the knights and was sentenced to death, but Meliodas set her free and personally offered to fight on her behalf if anyone objected. Meliodas later took Liz to his house where they lived together, often groping her chest to which she reacted violently. Later, Liz grew closer to Meliodas and became his lover, Meliodas calling her his "most important person to him." He has stated that he tried to protect Danafor and Liz, but failed, and that this is his sin, as a member of the Deadly Sins.