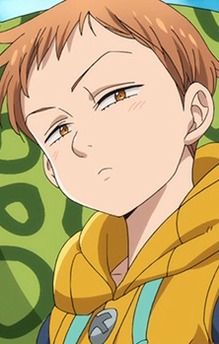 King
キング
King is a member of the Seven Deadly Sins and is the Sin of Sloth with the symbol of the Grizzly. He is the master of Black Hound Oslo (オスロ).
King's wanted poster depicts him as big man with short hair, side burns, a bulbish nose, and a sneer. His true appearance is that of a young boy and he is often mistaken for a child.
His Seven Deadly Sins Grizzly symbol is located just above his left ankle and on the outer side of his lower leg. He possesses the Sacred Treasure known as Spirit Spear Chastiefol which he uses in conjunction with his power Disaster.
King's real name is Fairy King Harlequin (妖精王ハーレクイン), and as the name suggests, he was the king of the fairies.
He has a sister named Elaine.
King is also shown to have feelings for fellow Sin Diane.