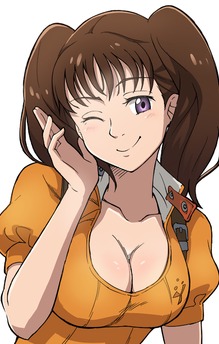 Diane
ディアンヌ
Diane is the Serpent's Sin of Envy of the Seven Deadly Sins. She is a member of the Giant Clan, and is thus much larger than ordinary people, including her fellow Deadly Sins.
As a member of the Seven Deadly Sins, Diane is shown to be incredibly strong. She was able to punch the ground and use it to stop a horde of bugs from destroying a town.
Admits in season 3 her feelings for King.
Diane's sacred treasure; Gideon, is a war hammer designed for the Giants' Clan. It is made of material that is stronger than steel and weighs approximately 2200 pounds. It is able to draw out the full capability of her ability, Creation.
The ability Creation, which is exclusive to members of the Giant Clan who have a deep connection with nature, enables Diane to manipulate the earth.
Immense Strength: Since she's a giant, Diane is able to perform staggering feats of strength, able to clash with the likes of Meliodas in terms of strength and even break through barriers capable of withstanding meteors with a single punch. She can swing a war hammer with a weight of 998 kg (2200 Pounds).
Enhanced Speed: Using her strength, Diane is actually incredibly fast and agile, however due to her giant size this speed is reduced to nil, but when shrunken to human size her speed increases and is able to dodge rapid arrows shot by a foe of similar ability such as Gowther.
Immense Endurance: Due to being a giant, Diane is able to withstand several mortal blows, such as being pierced through the shoulder and thigh and still move fast enough to save citizens from collapsing buildings, and still retain consciousness even after losing blood and taking a further beating.
Enhanced Durability: Being a giant, few attacks are powerful enough to actually cause grievous harm to Diane, and she can shrug off all but the most powerful attacks from Holy Knights.