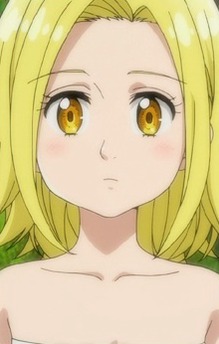 Elaine
エレイン
Elaine is an elite Fairy warrior who held the duty of the Fountain of Youth's Holy Maiden. She also is the younger sister of the current Fairy King, Harlequin.
Elaine is a slender female of very petite frame. She has slightly pale skin, big golden eyes with long, thin eyelashes, and blonde hair which first reached her neck.
Though killed by a demon after giving up the fountain to Ban, Elaine was later resurrected by Melascula of the Ten Commandments.
While alive, Elaine was powerful enough to protect the Fountain of Youth by herself in her brother's place. According to Zhivago, the Holy Maiden was capable of overpowering an entire army of Holy Knights. Like her brother, Elaine's power increased incredibly after her wings grew, which allowed her to further aid Elizabeth and the Sins against one of the Ten Commandments.
Elaine's special ability consist of wind manipulation through a mere flick of her hand. She mostly uses it to blow physical objects or people away, though also has been seen manipulating the shape of wind itself.
Nature Manipulation: Elaine has the ability to manipulate nature to a certain degree: Inside the Fairy King's Forest, she can control the branches of trees as her limbs, thus being capable of immobilizing or harming individuals.
Heart Reading: Elaine also has the ability to read human minds, thoughts and memories, a common ability among fairies.
After growing wings her power increased from 2'830 to 21'050