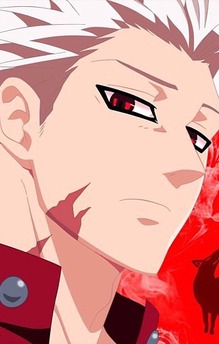 Ban
バン
Ban is the Fox's Sin of Greed of the Seven Deadly Sins. After the group's disbandment, Ban was initially imprisoned in the Baste Dungeon, but escaped when he discovered that Meliodas was still alive.
Courechouse: As a member of the Seven Deadly Sins, Ban possessed a sacred treasure, which was stolen during his imprisonment. It is a four-section staff. Five years ago since the Deadly Sins' betrayal, Ban's sacred treasure was stolen after he intentionally lets himself get captured by the Weird Fangs.
As a member of the Seven Deadly Sins, Ban is very powerful. His speed and strength greatly surpass that of an ordinary human, and his specialty is using his speed in conjunction with his ability, Snatch, in order to rip out opponents organs, preferably their hearts. His most amazing ability however, is his immortality. Thanks to drinking from the Fountain of Youth, all of Ban's wounds heal almost instantaneously no matter how severe. He also does not age, does not need to eat or drink, and is immune to all poisons. His immortality allows him to fight with a much more reckless style than most are willing. Ban's blood has healing qualities because it was fused with the Fountain of Youth, being able to heal others' wounds and regenerate the Fairy King's Forest completely.
Snatch: An ability that allows Ban to "rob" physical objects, thus grabbing them, and also the physical abilities of others, thus weakening them while gaining more strength and speed. However, this ability has a limit to how much Ban can rob a person's strength, in order to not damage his own body with overwhelming power. Using a form of snatch, Ban is also able to steal body parts from his opponents such as a heart or an arm in the blink of an eye.