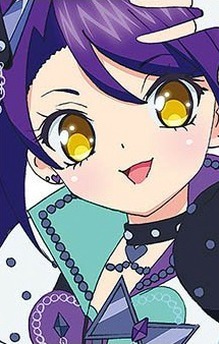 Shion Toudou
Shion Todo is a 6th grader at Paprika Private Academy. She is the only known 6th grader in the series. She is an idol at PriPara, and is also a Cool type idol. She is voiced by Saki Yamakita, a member of i☆Ris. Her preferred brand is Baby Monster. She is the last of the main six girls to debut, as Dorothy and Leona made cameo debuts in Episode 11 and Episode 12, respectively. Her name (Shion) is based on seventh note of the Solfège scale. Shion is really good at a game called Go. When thinking that other things as Go, she succeeds the task she needs to do. She is calm and reassuring on the surface, but her roots have a hot personality. She also has a unusually deep voice.
Shion has dark purple hair pulled up into a side ponytail on her right side, and light yellow eyes. She is also shown wearing a bat wing hairpiece where her hair is pulled up. Her messy, high, side ponytail resembles Karin Shijimi from Pretty Rhythm Dear My Future.
Although the kanji used is different, she shares her family name with Kanon Todo, Hibiki Todo, and Rizumu Todo (formerly Amamiya) from the Pretty Rhythm series, as well as Yurika Todo from the Aikatsu! series. She also shares her first name with Shion Kamiya from the Aikatsu! series, and Shion Sonozaki from Higurashi no Naku Koro Ni.
She makes a cameo appearance in Episode 13. She is currently in the unit Dressing Pafé, with Dorothy West and Leona West.