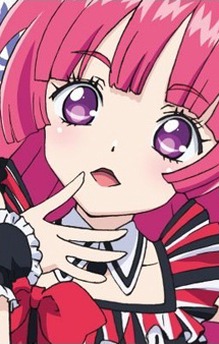 Sophie Houjou
Sophie Houjou is one of the main supporting characters in the series. She is an 8th grader at Paprika Academy. Not much is known about her, but she seems to be the classic sexy type of the group.
Sophie has been working in the idol industry since she was very young, and is also very popular at her school, and admired by a lot of the students.
Sophie has long magenta hair that appears to come down to her waist. She has purple eyes. Sophie is the oldest out of the three girls, as Laala is a 5th grader, and Mirei is a 7th grader.