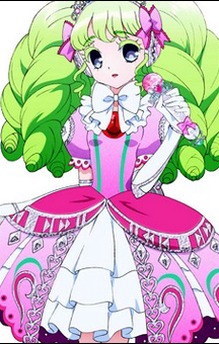 Falulu Vocaldoll
ファルル・ボーカルドール
Falulu Vocaldoll is a mysterious girl who appears on Episode 1 and Episode 13. Her preferred brand is Marionette Mu. She makes cameo appearances in Episodes 1 and 13.
Occasionally she will go and watch Laala performing.
Faruru has grayish-blue eyes and green, very thick braided pigtails, giving them a bushy appearance. Her bangs are eye length and appear to be very plain in comparison, and she has a few pink bows and a tiara on her head. She is shown wearing a regal coord.
So far, Faruru appears to be the only idol to know of the Prism Voice.