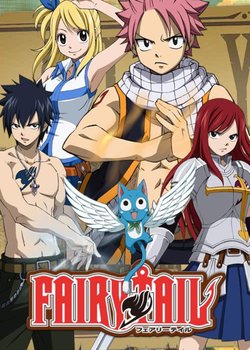 Fairy Tail
フェアリーテイル
A superficial but kind-hearted celestial mage, Lucy Heartfilia, joins a famous wizarding guild in Magnolia Town called Fairy Tail, where the members use their powers to earn rewards in exchange for fulfilling quests. Here she befriends an impetuous but faithful dragon-slayer wizard, Natsu Dragneel, who is scouring the land for his missing father. The two form a bond with fellow mages Erza Scarlet and Gray Fullbuster, and together they tackle daunting challenges, taking on several powerful allies and foes along the way. Created by Hiro Mashima, Fairy Tail is an action-packed adventure that follows Lucy and her friends as they learn the value of friendship, forgiveness and family.
I've been reading the manga and I'm enjoying it, but I've watched the first episode of the anime and I didn't find it as fun. Dropped.
u really gonna judge an anime from the first episode?
We live in a world where people have the attention span of a few seconds to wait for a website to load before they give up and try another one (see Amazon/Pinterest research on income lost from 1 second of loading time).
The same applies to Youtube videos, you either capture the attention of the viewer within the first 10-30 seconds or people are just going to click another video on the feed.
Like it or not, this is the reality of today's media.
Watching the 20-25 minutes for a full episode is a relatively big investment and some anime connoisseurs are experienced enough with the medium to tell if something is worth continuing or not. However, I'll admit that it is not always applicable: Examples exist, counterexamples also exist.
tl;dr: Just let him/her judge whatever he wants. It's just one comment/opinion out of many. It shouldn't affect your own judgement :)
Agreed, although I do believe that anything should be given enough time before judging it, especially animes which from my experience, first episode is never a good judge. However, not everyone has the time, or patience, or you just don't want to watch something like that, you do you.
Yep, because Its an adaptation of media I've already experienced and decided my opinion on.