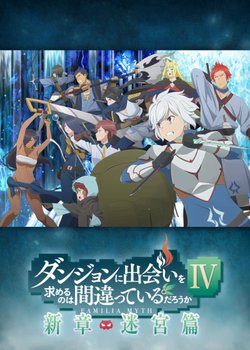 Dungeon ni Deai wo Motomeru no wa Machigatteiru Darou ka IV: Shin Shou - Meikyuu-hen
Orario, the Labyrinth City—An enormous city that harbors a vast underground labyrinth known as the "Dungeon." It is here that a young boy who aspired to become an adventurer met a tiny goddess, made friends, challenged the Dungeon, and narrowly escaped death on several occasions, all while leveling up his skills. That very same boy receives a letter. It contains a mission– an expedition into the Dungeon, deeper than he's ever gone before. Facing uncharted territory, the boy sets out alongside his friends on a brand new journey. This is the story of a boy as told by a goddess– a "Familia Myth."
Alright, it's getting incredibly good
Plot!!!
Danger!!!
Oooh!!!
Is it just me or Danmachi seems to just be overhyped for no reason? Like I've seen better isekais, and the story just seems repetitive. I liked season 1 somewhat, but after season 2 I just lost interest.
Ooo I missed when it was being hyped up So when watching it I pretty much didn't know what to expect
As far as i know Danmachi is not a isekai, and if people are liking it more, is no suprisse for me, it is a great anime from my eyes one of the very best currrently my top 1. But ofc everyone has their own tastes
On here it says there's 11 episodes but only 10 have been released? And it stopped showing the time for the next episode.
It's a issue between Shoboi (the website that give us t he name a time before episode release) and the official number of episode, that's probably because of episode 0 but I am not sure. Next episode gonna be airing in 6d
Ok for this show I NEED to know: How do I make it so this site ACTUALLY sends me notifications when stuff comes out? I haven't gotten even one.
Hey Zalamander, there is only notifications when a episode on your current watching anime list got released (as i know). Also, the notification system is currently broken due to a database issue. There is a little possibility for the issue to be fixed if Akyoto rewrite his Database system for another project and updated it here but its could not work too. If you want to know more you can read this Notifications Clarification
Well I didn't get any when that has happened sooo…
Hi Zala,
Notifications are currently disabled for anime episode releases. If you absolutely need them and you need them right now, this site can't help you in its current state.
Sorry for the troubles.