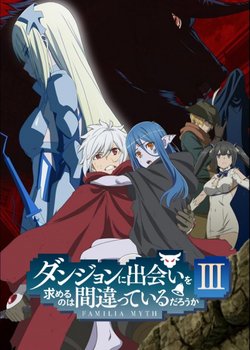 Dungeon ni Deai o Motomeru no wa Machigatte Iru Darou ka III
ダンジョンに出会いを求めるのは間違っているだろうかIII
The Hestia Familia faces an unparalleled crisis when Bell encounters an injured vouivre (dragon-type monster girl) in the Dungeon...one who can talk. His decision to protect the girl, who will come to be called Wiene, upends everything he and his Familia thought they understood about monsters and threatens to put them at odds with Orario as a whole. But Wiene is just part of greater schemes concerning talking monsters, schemes which Hestia Familia will soon find themselves at the heart of.
this season really finished with 12 episodes ? WTF!?
this anime is gone it got a little low rated
Yes only 12 episodes there will be a ova in january. There is also a spin-off called Dungeon ni Deai wo Motomeru no wa Machigatteiru Darou ka Gaiden: Sword Oratoria - 2017 and a movie that is not canonical Dungeon ni Deai wo Motomeru no wa Machigatteiru Darou ka Movie: Orion no Ya - 2019.
yea i did watch all of them but im sad that this season finished so fast and im sad that its rate its not higher
Pretty good, if you are interested in it but see the 6.2 rating I'd still watch it. It's pretty good. I like the story. I felt is was a little slow pacing but it is probably done on purpose.
Prob ignore that 6.2 rating since that's (time of writing) just 6 people's opinions.
MAL's ratings by 50k+ is 7.53 out of 10 which is solid