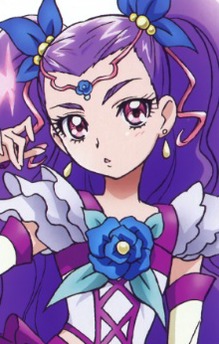 Kurumi Mimino
In Yes! Precure 5, Milk is a fairy from the Palmier Kingdom. She is a pale pink fairy that has long ears and a red bow on her head. While on Earth, she acts as a caregiver to Coco and Nuts.
In Yes! Pretty Cure 5! GoGo! She is a cooperator of Pretty Cure. Her civilian name is Mimino Kurumi and her name backwards has the same pronunciation with Miruku no Mimi (ミルクの耳) meaning "Milk's ears." She has long, violet, curly hair and fuchsia eyes. When transformed, she wears violet with blue flower decorations. A calm, smart character, her cool persona acts as a mask to her bizarre personality.
She introduces herself as "The Blue Rose is The Secret Mark, Milky Rose!" (青いバラは秘密の印 ミルキィローズ!, Aoi Bara ha Himitsu no Shirushi, Mirukī Rōzu!)
She is actually Milk in human form, who got her powers from a blue colored seed left behind after the events of episode 7. Kurumi makes her official appearance as Milky Rose in episode 10 to help the PreCure. Her civilian form is introduced in episode 12, and we first see her transformation in episode 11. Milk/Kurumi can't stay in this form for too long, as it drains her energy and reverts her back to mascot form, as seen in episode 14.