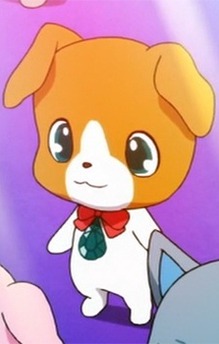 Chite
カイト
Chite is a naturally colored Jack Russell Terrier: brown and white. His Jewel Eyes are dark green malachites. He wears a pink bow with a green teardrop-shaped jewel attached.
In Jewelpet, he appears to snap Hisashi out of his laziness induced by Diana's curse. He offers his support to anyone by cheerleading.
In Jewelpet Kira Deco, he's one of the ninjas (with Yuku and Nix) who wants to be noticed by others.
Chite has minor roles in the other seasons.