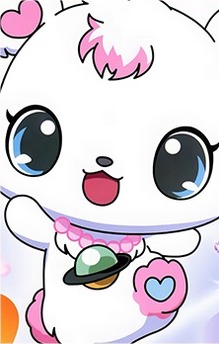 Labra
ラブラ
Labra is Akari's secondary Jewelpet partner, a pink and white Polar Bear cub with blue heart-shaped paws and heart-shaped ears who symbolizes mischief. She wears a necklace shaped like a multi-colored planet resembling Saturn. Originally debuting in the first season as a baby Jewelpet born by using Rakumajo's magic, she's a genius child who has the Super Crystal Class ranking, which means that all of her magic is very successful.
In Jewelpet Tinkle, Labra is a young prankster and loves making jokes in Jewel Land, especially to Ruby, but sometimes gets scared and cries a lot, which can cause powerful magical shock-waves that can destroy anything nearby, even statues. She became Akari's second Jewelpet partner and plays a major role in Akari's story along with Ruby.
Her birthday is on December 27th and her name is based on the mineral Labradorite.