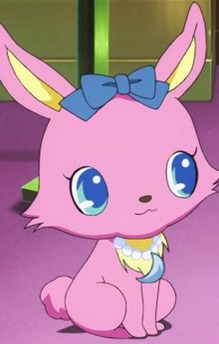 Luna
ルナ
Luna is another one of the original Jewelpets of the first season, She is a pink and yellow Netherland Dwarf rabbit who symbolizes charm improvement. She wears a blue bow and a necklace shaped like a blue crescent moon.
Debuting in Episode 15, she's the most artistic of all the Jewelpets, sometimes drawing good pictures in her sketchbook. Her speech always ends with "dana" and her magic is in the Glass Class ranking, on which her magic has a time limit, which lasts until exactly 12:00 midnight. She's also one of the owners of the "Strawberry Cafe" in both Jewel Land and on Earth along with Milky and Peridot. She along with Milky appeared also in the End Segments of Jewelpet Tinkle and also one of the three assistant Jewelpets of Halite.
Her name is the Latin word for Moon while her jewel powers come from her base jewel, Moonstone.