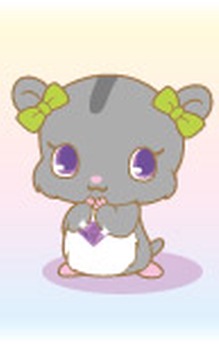 Amelie
アメリ
Amelie is a gray colored Djungarian hamster with a darker gray stripe on her head and back and a white belly. Her purple Jewel Eyes are made of amethysts. She wears a jewel necklace with a purple diamond-shaped jewel decoration and a pair of green ribbons on her ears.
Amelie is the 2nd smallest Jewelpet, the first being Charotte.
In Jewelpet, she is a member of the Jewel Eight. Dian brainwashes her into making human babies turn against their parents. She is reclaimed by Rinko's group through a race in the Jewel Games.
In Jewelpet Twinkle, she's the partner of Angelina, and antagonizes Ruby, Garnet, and Sapphie.
In Jewelpet Sunshine, she's a pirate captain known as Captain Amethyst. She's tasked with guarding the Rainbow Jewel.
In Jewelpet Kira Deco, she is stuck in the desert town that hates jewels and is saved by Pink and Blue Knight.
In Jewelpet Happiness, she attends a Christmas party in the Jewelpet Happiness Cafe.
She is in the background in the other seasons.