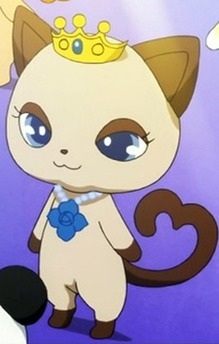 Kaiya
カイヤ
Kaiya is a naturally colored Siamese cat, light ash brown body with brown paws, ears and tail. Her Jewel Eyes are dark blue kyanites and she wears a golden crown with a blue jewel on her head and a necklace with a blue rose shaped jewel attached.
In Jewelpet, she is the partner of one of the Phantom Herb Thieves, Mint. Through her spell of Independence, Kaiya helps her gather the courage to leave Diana.
In Jewelpet Twinkle, she's the partner of Marianne Grand Maniel Chocola Julliangeli.
In Jewelpet Sunshine she hosts a karaoke party.
In Jewelpet Happiness she teaches Nene, Ruruka, Chiari and the Jewelpets of Jewelpet Cafe to be like Kaiya Beauty and forms a Magic Gem.
She's in the background in the other seasons.