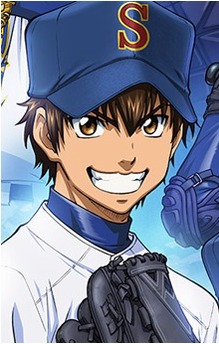 Eijun Sawamura
Sawamura Eijun comes from the prefecture of Nagano, where he played baseball for Akagi middle school. He was scouted to play baseball for Seidou High School which is located in Tokyo, and is now a first year there. Sawamura is a left-handed pitcher (aka, "southpaw") who also bats with his left.
Sawamura's strengths are his infallible spirit, bunting, infield defense, and his idiosyncratic pitches. His weaknesses are batting, outfield defense, and his control.
Outside of baseball, his hobbies are catching beetles, fishing, and watching sumo.
Speed: 3.5⁄5 Control: 3.5⁄5 Stamina: 4⁄5 Cutter: 4⁄5 Changeup: 3⁄5