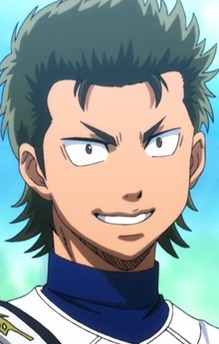 Youichi Kuramochi
Kuramochi is a second-year at Seidou known for his speedy base running, quick throws, and as well as being the lead-off batter. He is a switch-hitter.
Kuramochi is considered an evil-like character due to his enjoyment in playing pranks and laughing at others. He also seems to be incredibly perceptive. Due to their similar natures, Kuramochi is a character that is often lumped together with Miyuki. The two are frequently seen together at school, and during their first year, they moved up to first string together. They are the closest thing either of them have to a friend at Seidou.
Kuramochi's hobbies include playing video games and bullying Sawamura.
Kuramochi took up wrestling when he was little. He was also considered a problem child in his hometown so no high schools there invited him. Instead, he chose to go to Tokyo.