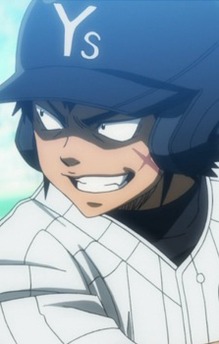 Raichi Todoroki
Raichi is the protegé of Yakushi and perhaps Sawamura's biggest rival who doesn't wear the colors of Seidou.
Raichi Todoroki's specialty is batting, an ability he has honed due to the help of his father and coach, Raizou Todoroki's, close to extreme coaching methods. Raichi looks like a delinquent and is portrait fearsome with a visible scar on one of his cheeks. Although he can seem scary, his personality is quite fragile, and he is often made fun of by his classmates. He completely lacks social skills, but in baseball he excels and it is, by his friends, implied to be the only thing he is good at.
His favorite food seems to be bananas, and among other trademarks is his peculiar way of laughing.