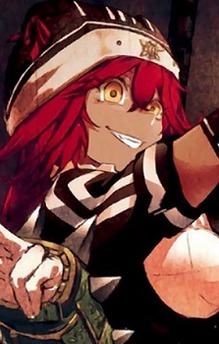 Lupusregina Beta
ルプスレギナ・ベータ
Lupusreginais a member of the "Pleiades Six Stars," the battle maid squad of the Great Tomb of Nazarick.
She is a brown-skinned beauty with a sporty look and red hair tied in two long braids. Lupusregina wears a maid uniform with short sleeves and long black gloves, with a skirt that has a long slit on it's left side, revealing thigh high white stockings. She is equipped with an imposing black and silver scepter slung across her back.
Lupusregina has a very bright and outgoing personality but is also able to conduct herself like a perfect lady. She is sociable and friendly toward humans, though it is only a mask to conceal her brutal and cunning personality. She also likes to make lewd jokes.
She had a tendency to suddenly appear behind people and disappear without notice.