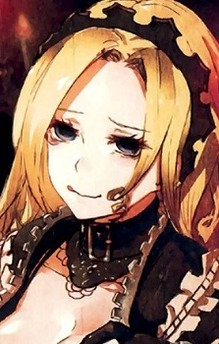 Solution Epsilon
ソリュシャン・イプシロン
Solution is a member of the "Pleiades Six Stars," the battle maid squad of the Great Tomb of Nazarick.
She is a blonde beauty with spiral curls and clothing that emphasizes sex appeal. She is said to rival the most beautiful woman in Re-Estize Kingdom, the Golden Princess. As her race is slime, she can change her appearance as she wishes.
Solution thinks of humans as food and toys. She loves to swallow humans alive and enjoys the suffering and struggling of her victims. She does not like the screams of humans so she shuts her victims' throat with her body. She is, with Narberal Gamma, one of the two "extremely dangerous" Pleiades.
She is also good at disguising her nature, acting like a childish and rude lady when she was out to get information with Sebas Tian. It seems that her true nature is quite logical, suggested by her complaint about inefficient behaviors of Sebas or Entoma.