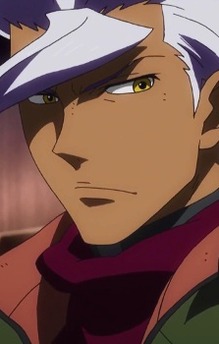 Orga Itsuka
オルガ・イツカ
Orga is a leader among the boys of CGS, later known as Tekkadan. Naturally gifted as a commander and trusted implicitly by others, he strives to live up to their admiration. He's especially close to Mikazuki, who he's known since a very young age; their bond is closer than most blood brothers. His coup within CGS is launched to give the boys a place where they won't be betrayed anymore.
He has undergone the Alaya-Vijnana System surgery, therefore, his skill and abilities are better than an average mobile pilot. His greatest strength, however, is not his ability to fight, but to lead. His personal charisma, along with his military genius, is what keeps Tekkadan moving forward. His ability to think outside of the box has saved him and his allies on multiple occasions, and that has earned him the respect of both friend and foe and has in one occasion, impressed a foe enough to become his friend.
Despite having a rough childhood and never attending school, he is surprisingly fully capable of reading and writing, and more impressively, in two languages, unlike most children of his circumstances. He loathes sitting at a desk and doing paperwork, but is very capable of getting it done when it comes down to it.