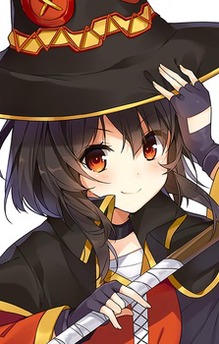 Megumin
めぐみん
An arch wizard who is descended from crimson demons; powerful humanoids who possess black hair and red eyes, and sport chuunibyou characteristics. Megumin only knows a single skill, the incredibly powerful explosion magic that immediately incapacitates her for the rest of the day when cast, and refuses to learn any other skills. She is the first person to join Kazuma's party.
"Megumin" is a Japanese nickname commonly given to girls named "Megumi", which means "blessing".
Due to her tendency to steal the final blow, along with the spotlight, Megumin recieves the bulk of the experience points earned by each of the party's conquests, leading to her being around level 40.
Explosion Magic: Megumin is absolutely obsessed with Explosion magic. She devotes all of her skill points into improving the power of her explosions, shortening her casting time, and being able to cast the spell without chanting out loud. However, the severe mana drain, combined with Megumin never using points to increase her mana, results in her always collapsing after casting and becoming completely immobile. Also, her refusal to learn any other magic makes her entirely dependent on allies after casting. This is especially notable because other known Arch Wizards who can use Explosion magic can remain standing after casting, know at least one other skill, and can fight alone if necessary.