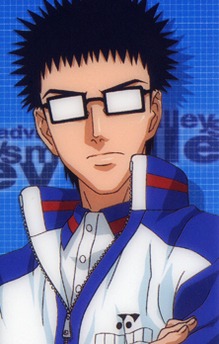 Sadaharu Inui
Sadaharu Inui is a 3rd-year student and regular member of the Seigaku tennis team. He is an intelligent player and is best known for collecting player data, which he incorporates into a unique playing style known as "Data Tennis".
Four years prior to the start of the series, Inui and Yanagi Renji were an unstoppable Elementary School Doubles Pairing. Despite Inui wanting to continue their close partnership, their doubles pairing was ended when Yanagi suddenly moved to the Kanagawa Prefecture and joined [[|Rikkai Dagaku Fuzoku |Rikkaidai]].
Before Echizen Ryoma's arrival at Seigaku, Inui was recognised as the third-strongest player on the team, next to Fuji Shūsuke and Tezuka Kunimitsu. Inui has an intense rivalry with Tezuka, having played at least 30 matches against him and losing every single one of them. In response to Tezuka's superiority, Inui began developing his style of Data Tennis specifically to defeat Tezuka.
Despite being in the regular lineup for six months, Inui was beaten by Ryoma in the intra-school ranking tournament, and then lost to Kaidō Kaoru (who had also been beaten earlier by Echizen and was determined not to lose his spot) at the beginning of the series. He later became the team's manager. He uses his data to create exercise programs for the team.
Eventually, Inui is able to make it back as a regular by using the data he obtained over the time he was manager, defeating Momohsiro Takeshi to regain his spot in the regulars. Despite his guaranteed spot, he played a tough match against the undefeated Tezuka and again lost to his captain. Nonetheless, Inui is enthusiastic about regaining his spot on the team, and is eager to practice with his teammates and resume his data-gathering.
While he is a very good singles player, Inui usually plays doubles with various partners, most notably his protegé Kaidō Kaoru. His doubling with Kaidō helped Seigaku overcome their problems with their lack of strong doubles teams, with the exception of the Golden Pair.