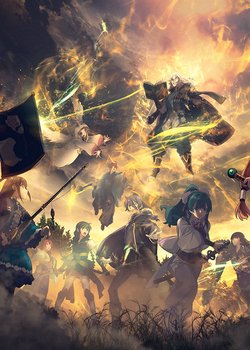 Tate no Yuusha no Nariagari Season 2
Iwatani Naofumi, a run-of-the-mill otaku, finds a book in the library that summons him to another world. He is tasked with joining the sword, spear, and bow as one of the Four Cardinal Heroes and fighting the Waves of Catastrophe as the Shield Hero. Excited by the prospect of a grand adventure, Naofumi sets off with his party. However, merely a few days later, he is betrayed and loses all his money, dignity, and respect. Unable to trust anyone anymore, he employs a slave named Raphtalia and takes on the Waves and the world. But will he really find a way to overturn this desperate situation?
Rising of the Turtle
It gets better as the season goes on
yeah, takes half the season for it to be good… i hope season 3 doesn't suffer a worse fate.
I just wish this rishia girl story ends very soon from my opinion they are wasting so much time on her its more like the show name is bow hero not shield hero anymore :/ she doesn't have much impact on story and they are focusing on her so much more than main character now
Guys i just read something that says shield hero got cancelled and it will be replaced with bow hero is that true . If it is im not gonna watch anymore
No, the studio confirmed the release date for the 6 Apr 2022, witch is, as i write now, in 4 days. You may be confused with the announcement of the delay, the anime was originally supposed to be released in October 2021 but has been postponed to 2022 for reasons that have not been publicly announced. They also announced the season 3 not a long time after confirming the release date.
Ok good then i just read something in my google news that sayed it gonna be replaced with bow hero stuffed that really raged me
Did you post this on 1st or 2nd April?
Idk dude im persian xD we have a different date like its year 1401 for me here
I just wish that the animation of of the fights be a little better and its done (in s1 when he was using ironmaiden the moment when boss was in the chain shield it makes me uncomfortable when it goes a little slow and mc was enchanting)
I mean, the first season was good, so of course I'm gonna watch this when it comes out, but I'm not expecting anything phenomenal.