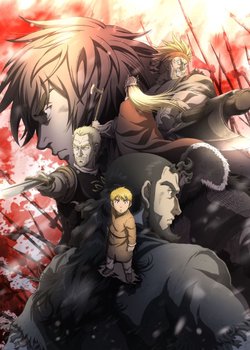 Vinland Saga
ヴィンランド・サガ
For a thousand years, the Vikings have made quite a name and reputation for themselves as the strongest families with a thirst for violence. Thorfinn, the son of one of the Vikings' greatest warriors, spends his boyhood in a battlefield enhancing his skills in his adventure to redeem his most-desired revenge after his father was murdered.
Master piece. A must watch. The ending is also very good.
I loved the animation, the story, the opening.
The story towards the last 3-4 episodes was kinda confusing and i didnt understand it, will rewatch some day
Although I wouldn't call it a masterpiece as mentioned before, I still agree. Loved that anime. I rarely like Vikings as much as I like them here. And the OPs and EDs are awesome!
I just noticed there's just Thorfinn in characters yet. Might add some more here later.
You said "I just noticed there's just Thorfinn in characters yet" what do you mean by that? There's askeladd and Thorkell, etc.
This anime is definitely not a masterpiece, but still pretty good and it's one of those few anime where I couldn't skip the opening and ending songs most of the time. Such a good choice of songs and they fit this anime perfectly!
Also loosely based on a real story. Thorfinn Karlsefni had a statue in Philadelphia but it was destroyed by Antfa.