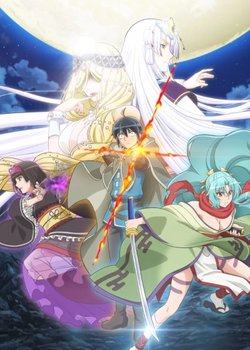 Tsuki ga Michibiku Isekai Douchuu
Makoto Misumi was just an ordinary high school student when he, due to certain circumstances his parents were facing, gets summoned to the other world to become a "hero." The goddess of the other world, however, insults him for his "ugly face" and strips his "hero" title, before casting him off to the wilderness at the edge of the world. As he wanders the wilderness, Makoto encounters dragons, spiders, orcs, dwarves, and all sorts of non-human tribes. Because Makoto comes from a different world, he is able to unleash unimaginable magical powers and combat skills. But just how will he handle his encounters with various species and survive in his new environment? Join Makoto in this fantasy as he transforms the other world into a better place despite the humans and gods having turned their backs on him.
This was incredibly fun to watch, making me completely overlook that is an esekai. Also the ED music absolutely slaps.
So far the only esekai I rewatched. I did rewatch Re:zero, but that was because of the directors cut, which in my opinion, doesn't count enough.