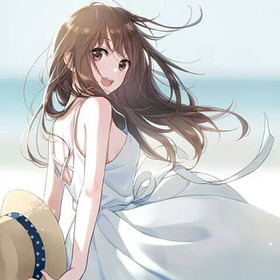 Blossom
For recommendations and casual talk related to anime.
Ok. Just tell me some good anime to watch and I'll most likely check em out. Thanks Everyone.
💙 Danmachi💙 Great Teacher Onizuka💙 One Piece💙 Dragon Ball💙 86
💙 Berserk 💙 Magi 💙Hunter x Hunter 💙Mushishi💙Grand Blue
💙 Kingdom💙 Tokyo Ghoul💙 Made in Abyss💙 Hajime no Ippo
💙 Haikyuu!!💙 Bleach💙 Diamond no Ace💙 Naruto
💙 Parasyte: The Maxim💙 Demon Slayer💙 Attack on Titan 💙 Mob Psycho 100
💙 That Time I Got Reincarnated as a Slime 💙 Death Note 💙Fullmetal Alchemist 💙 Yuu☆Yuu☆Hakusho
💙 The Promised Neverland 💙 3D Kanojo: Real Girl 💙 No Game No Life 💙 The Rising of the Shield Hero
💙 Grimgar: Ashes and Illusion 💙 Overlord 💙 Jujutsu Kaisen 💙 One Punch Man
My top 5: Danmachi, Berserk, Kingdom, Haikyuu!! and Parasyte: The Maxim
Jahy-sama: Wa Kujikenai! K-on! Dārin In Za Furankisu, Shinryaku: Ika Musume! Kibou no Gakuen to Zetsubou no Koukousei, Hepburn: Nō Gēmu Nō Raifu
Most of them are romance, Tonikaku Kawaii (Romance from the start) Seishun Buta Yarou wa Bunny Girl Senpai no Yume wo Minai (So, where is the bunny girl exactly? The movie was good.) Accel World (If you like SAO, you should like this one) Sakurasou no Pet na Kanojo (Made me laugh, good to pass time) Koe no Katachi (This is a movie, talk about bullying, a sad but good one) Sewayaki Kitsune no Senko-san (Loved it) Toradora! (One of the first romance i saw, made me discover the romance genre.) Charlotte (Everyone think that the girl name is Charlotte but its not) Plastic Memories (Loved it, but the end is sad and pretty abrupt, still a good one) Ookami to Koushinryou (There too many things to say. Its another type of romance, i liked it.)
I know more than that but i don't want to scroll trough my entire animelist but you can watch it here, i think ithere only 4 anime that are in private so you won't be able to found them
Edit, i forgot this one, Ano Hi Mita Hana no Namae wo Bokutachi wa Mada Shiranai. (Wanna cry? And i am not talking about the malware)
hello im new here would you like to be friends
L 2d is fictional and won't ever love you
Not like 3d is gonna ever love me either
Hi can someone talk about anime.
W life W family W friends
Any that brings my attention i really like shounen
Hey can I ask you a personal question?
How long have you been watching anime?
What was the first anime you watched?
Anime is a pretty good entertainment medium.
What animes do you watch?