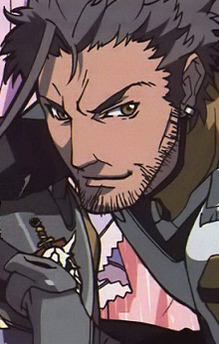 Ozma Lee
オズマ・リー
The top ace in the S.M.S. private military company and leader of Skull squadron, he holds the rank of Major. A former N.U.N.S. pilot, he has plenty of combat experience backing him up. He is a fan of Fire Bomber and often plays their songs in his car or while at home, and also named one of Skull Squadron's battle formations after one of their songs ("Planet Dance"). Although laid-back and careless on the outside, he knows when to be serious, and believes that the real duty of a soldier is to care for his subordinates and civilians. He is somewhat overprotective of his sister Ranka Lee, and lies to her about his work so she will not worry about him, telling her he has a desk job in a company's personnel department. He is actually unrelated to Ranka by blood and is only her adopted brother, constantly blaming himself for the failure of protecting her real family during a Vajra attack on the 117th Large Scale Research Fleet 11 years ago.
He also had a prior romantic relationship with NUNS 2nd LT Cathy Glass sometime in the past, which makes their current working relationship on Macross Quarter a little tense at times.
He is seen in episode 02 driving what seems to be a replica of a first generation 1986 Lancia Delta Integrale painted in his VF-25's color scheme.
Like Cathy Glass, Ozma Lee had grown suspicious of Leon Mishima's intentions and confronted him only to be arrested by his men. However, he and Cathy escape and find the body of president Howard Glass after Leon had him killed inside Battle Frontier.