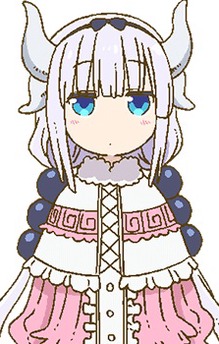 Kanna Kamui
カンナカムイ
Tohru's friend from the dragon realm who got exiled from her world and winds up living with Kobayashi as well. She is very young by dragon standards and starts attending 3rd Grade in Japan in her humanized form. She initially assumes that Kobayashi seduced Tohru into staying and wanted her to return to their original world. She later grows attached to Kobayashi, viewing her as a mother figure.
Kanna has white-lavender hair and blue eyes. According to Riko Saikawa, she is very cute and appealing. Her style of clothing has been described as "gothic lolita with a tribal theme" (courtesy of Kobayashi). Her usual attire consists of a white capelet with a fur collar, a pink blouse, a white frilly skirt and pink doll shoes. She ties her hair into pigtails, each adorned with three dark blue beads.
Like Tohru, she wears her horns and tail out whenever she's indoors.
In her dragon form, she appears as a feathered white dragon with blue eyes.
Kanna has the ability to generate and manipulate electricity.