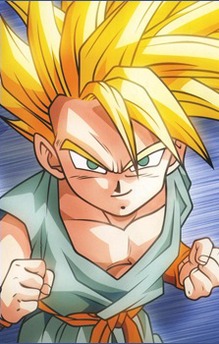 Trunks
トランクス
Trunks is the Human and Saiyan hybrid son of Bulma and Vegeta, and later the older brother of Bulla.
As a child during the Majin Buu arc, Trunks is shown to be quite cocky and stingy just like his father, as well as mischievous, most likely due to the fact that this Trunks grew up with his father Vegeta and enjoyed the luxuries of peace, while Future Trunks grew up without Future Vegeta and in an apocalyptic world, causing him to be much more serious and cautious. Trunks has a combination of both of his parents' personalities: cocky and proud like his father and spoiled and selfish like his mother.
In his later years, Trunks adopts a personality similar to his future counterpart's. During and in between his battles at the World Martial Arts Tournament, he acts just like his father does, calm when he fights and insulting his opponents.