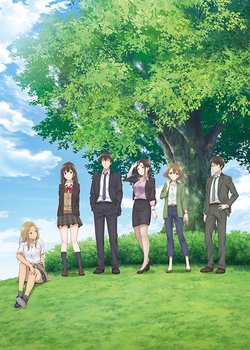 Hige wo Soru. Soshite Joshikousei wo Hirou.
Office worker Yoshida has been crushing on his coworker, Airi Gotou, for five years. Despite finally scoring a date with her, his confession is promptly rejected. Drunk and disappointed, he stumbles home, only to find a high school girl sitting on the side of the road. The girl, needing a place to stay the night, attempts to seduce Yoshida. Despite rejecting her advances, he nevertheless invites her into his apartment. The next morning, the girl, introducing herself as Sayu Ogiwara, reveals that she has run away from Hokkaido all the way to Tokyo. During her six-month spree, she continually traded sexual favors for a roof over her head. Yoshida, however, remains unswayed by her seduction. Instead, he has her do a different kind of work—one that entails washing dishes and doing laundry. And so, a touching relationship between a heartbroken adult and a runaway high school girl begins.
Seeing the name for the first actually made me think it would be a really wholesome romcom and it kinda is but its really dark if you actually think about and oh boy after reading upto chapter 23 it was depressing. It's kinda like a more wholesome version of 177013(If you know, you know but if you don't then just forget this number, you wouldn't want to remember this).
What the hell is wrong with the name? "I shaved my beard then picked up a high school girl" Well it seems there are quite a lot of interesting animes in Spring 2021