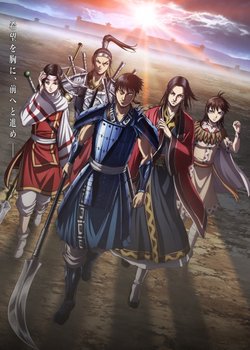 Kingdom 4th Season
キングダム 第4シリーズ
Fourth season of Kingdom.
It's here! Amazing first episode.
Yes, great first episode. I can not understand why Kingdom is not more popular.
From my understanding theres no official english dub for the manga yet. Ofc you can find it online but i guess they don't sell the books. ): somehow after like 15 years. That's my guess
ive read the manga its good as fuck no wonder its one of the most popular mangas in japan and top 11 in myanimelist the manga is popular but i guess the first and second season animation is a turn off ive had friends that didnt watch it because of that :(
Sad ): i wonder if they'll ever re-do the first 2 seasons. Personally it didnt bother me.
me neither if the story is good i dont care if the animation is a little off but nowadays the animations are so good (but mostly crappy stories) that people dont see older/shittier animation whit good storie i dont know why but it is what it is.i didnt care as well about the first 2 seasons but some people are like that nothing we can do
lusitanmyth also didnt like the 1ep animation and i told him to keep watching now his one of his favorite animes xD and in my opion the animation gets better in the 2 ep of the 1 season