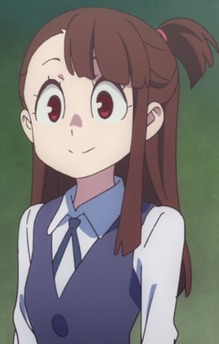 Atsuko Kagari
アツコ・カガリ
The main protagonist, an energetic and optimistic Japanese girl who attends Luna Nova after being inspired by the witch Shiny Chariot. Having come from a non-magical background, she struggles using magic much of the time, and is disappointed by the mundanity of her classes as opposed to Chariot's more spectacular performances. However, her strong sense of self-confidence enables her to wield Chariot's Shiny Rod, which accepts her as its new master.
Staff - Shiny Rod: A powerful staff that has amazing yet unknown abilities. Although Akko is initially unable to use it at will, she is able to use it in moments of great importance in response to her feelings, managing to revive the Seven Words of Arcturus. It can transform into a bow and create an arrow from thin air. She also managed to transform it into a great ax to launch a frontal attack and a grappling hook, a mixing machine and a flying broom. After breaking the seal of Grand Triskellion, the Shiny Rod merged with the Grand Triskellion, allowing it to access its powerful world reconstruction magic.
Broom - Shooting Star: A legendary, sentient flying broom filled with its own magical energy. Akko rode the broom twice; first during the Luna Nova Cup in "Don't Stop Me Now" and again during the battle against the Noir Rod missile in "Tree of Leaves".