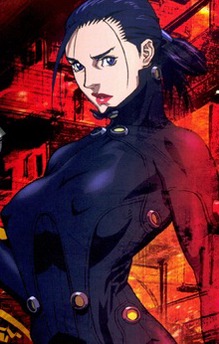 Sei Sakuraoka
Soon after her first appearance, she has sex with Kurono Kei. This does not appear to be for any particular reason (aside from the fact that he asked and she stated that he was cute), however as Kurono displays his bravery and cunning through the Buddha mission Sei becomes fascinated by him. Before the second half of the mission, she asks Kurono if he will be her boyfriend. When he agrees, she states that she will take him for a ride in her car upon their return.
After the majority of the Gantz Team fall to the Buddha Temple boss Sei realizes that Kurono does not feel the same way about her—instead he thinks more of the deceased Kishimoto than her. Seeing the boss approach, she asks Kurono if he would love her if she defeated the enemy. Once she receives her answer, she fights against it both solo and with her bare fists. Although Sei is able to injure the alien she is unable to defeat it and she dies defending Kurono.
When Kaze asks Kurono who he wishes to revive, Kurono briefly deliberates between her and Kishimoto. In the end, he chooses neither and revives Nishi Joichiro.