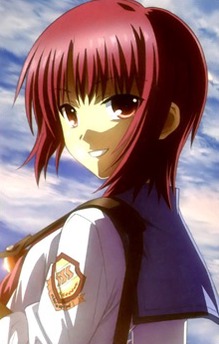 Masami Iwasawa
Always giving a cool look, she is a talented vocalist and plays guitar. She formed a band in the Afterlife called Girls Dead Monster with her best friend Hisako. She also writes songs and composes music for her band. It was only through conquering her insecurities that she gained her charisma and it was her passion that drove her to dedicate her life (and her afterlife) to sing meaningful, inspiring songs that would help people get through rough times as did she with Sad Machine's songs.
The electric guitar that she is seen using is a Fender American Standard Stratocaster with the color of Sienna Sunburst.
In episode 3, it is revealed that she is brought up in a family where her father and mother keeps on having quarrels & fights against one another. It lead her to a fear that keeps everything to herself, which made her become a lonely person.
It was until one day she hears a band, Sad Machine, that sang words she related to what she had experience through her life. That was then she decided to sing out to express herself. She found an acoustic guitar that was thrown away, which she picked up and got it fixed and used it to perform. She decided to leave home and continue to pursue her dream as a performer while also holding part time jobs
In the same episode, she revealed that she died in the hospital due to a stroke in her head that paralyzed her body. It was during the fights between her parents when a beer bottle hit her head by accident.
After singing her ballad during the concert, she accepts her fate and vanishes, leaving only her acoustic guitar behind. It was then the gang realized that they don't have to really obey what Angel says in order to enter another life, which they do not want.
As seen in the line "One needed courage to face the past" and the next scene showing the cafeteria which the band Girls Dead Monster plays, this refers to Iwasawa since it is known that she used music as an escape from her constantly fighting parents in life, but ended up dying from a brain injury she received. Once she faced the past, she managed to move on as seen in episode 3.