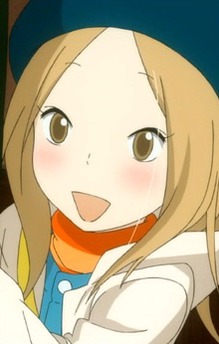 Rin Kaga
Rin is a six-year-old girl and the illegitimate daughter of Daikichi's grandfather, Souichi Kaga, and manga artist Masako Yoshii. After Souichi died, Masako abandoned Rin for the sake of her career as a Manga artist.
Rin is very independent and mature for her age and is often dealing with issues on her own. Living with Daikichi, she develops a fondness of cooking for him.
Manga spoilers! Read at own risk.
Rin begins to wrestle with her feelings when Kouki starts wanting to have a deeper relationship with her. Rin comes to realize that she likes Daikichi, but is hesitant to pursue a relationship because they are related. Near the end of the series, however, Rin learns that Souichi was not her biological father and only adopted her. After this she opts to stay with Daikichi for the rest of her life.