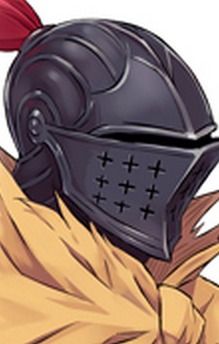 Aldebaran
アルデバラン
Aldebaran, commonly known as Al is Priscilla Barielle's knight,
Al has a frivolous and goofy personality, and having spent more than ten years in a different world, he was easily able to get along with Subaru. Despite being Priscilla's knight, he doesn't really recognize himself as one, seeing himself as her caretaker, while Priscilla herself sees him as a handyman and a fool to entertain her. He has no qualms about their relationship. He also brags that the only way he can fight is by outwitting people and catching them by surprise.
Like Subaru Al was summoned from Japan to the different world although it was 18 years earlier. One time, he visited the Gladiator Island Ginunhive to learn how to fight and received a sword and a helmet, however, he also lost his left arm around that time.
Sometime later, Al joined Priscilla's knight tournament and ended up in the best four out of an event with around fifty people. Priscilla decided to choose him as her knight instead of Gilian Endymion who Leip Barielle brought.