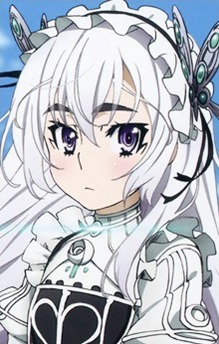 Chaika Trabant
チャイカ・トラバント
The titular character of the series. A young Wizard who lugs around a giant coffin. She excels in high-precision spells. She's also sensitive about the thickness of her eyebrows. Her way of speech is not in sentences and is grammatically inaccurate, after their close-encounter with the unicorn she becomes friends with Tooru Acura. After Tooru's sister Akari completely decimates a restaurant, she pays for the damages and then hires the siblings to break into Count Abarth's castle to steal an important artifact.
Its revealed fairly early that she is the Daughter of the late Mad Emperor Gaz, she is pursuing the "artifacts" that are actually remains of her father that was scattered all over the world due the fact that it was infused with very potent magic.
It is later revealed that she is one of the many experiments of the late Gaz Emperor whose original memories were wiped clean and replaced with Chaika whose sole reason for living is to collect the Gaz Emperor's remains.