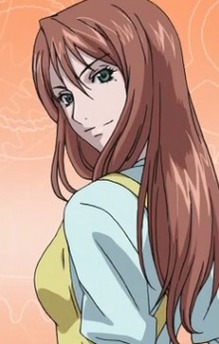 Rika Noyamano
Rika is the eldest of the Noyamano sisters. She acts like a typical older sister and takes care of the family. To support her sisters and Ikki, she works as Destler Bartlett, a female pro-wrestler. During the time when Ikki discovers AT, she is out on a national tour with her wrestling promotion. Unknown to Ikki at first, she is the former Thorn Queen of the original Sleeping Forest, which required her to utilizes her hip joints as the base of her moves. The disadvantage of her Sonia Road was that it took quite a toll on her body, making her tire easily. She is one of two members of the original Sleeping Forest that is not a Gravity Child, the other being Ine. Throughout her entire stay in Sleeping Forest and afterwards, she was unaware of the significance of the Sky Regalia and the true intentions of Sora. She was initially Sora's girlfriend, though they fell apart after Kilik's betrayal. She also quits using AT, and she initially fears that Ikki will suffer the same fate as Sora if he continues to be a Storm Rider, although she is finally convinced of his talent after a strange battle with him and a team consisting of Sora and his dogs. She and Sora talk often afterward and eventually reconnect.
In her youth Rika was displayed as a lone ranger who achieved the right to use the Thorn Regalia in her early teens by herself, even though she was not a Gravity Child. She battled off opposing enemies aiming for her title as the Thorn Queen and aimed to take down all the teams in the area alone. In addition, she found the means to support her large family by herself, though they were bordering poverty. On one of her fights she met Sora, who she christened as the '120 Yen,' for the iced coffee he bought her. Sora appeared as one of her fans, and later became her companion and friend. On one occasion, she revealed to Sora that she had caught wind of a group who was reputedly composed of the strongest Kings of the era, and wanted to take them down. Only upon arrival of the battlefield did she find out that the team was none other than Sora's Sleeping Forest, and that he was the leader, the man closest to becoming Sky King at that time. Sora extended his offer to include her on the team, and because she desired to remain at Sora's side, she complied.
After joining, Rika was romantically involved with Sora, and also a major cause for Kilik's jealousy. When Kilik declared betrayal upon Sora, she was not present for the battle on any of the sides, presumably uniforned by neither Sora nor Kilik, who had only recently confessed to her the perivous night. She arrived too late to find the battle alreadly over, Kilik the winning party, Sora and his supporters beaten and robbed of their Regalia. Sora, grievously injured by the battle in both legs, lost hope and broke up with Rika, leaving her the Sleeping Forest emblem, which she passed down to her sister Ringo later.
Afraid of such a repeat of the same incidence, present-day Rika attempted to stop Ikki from going down the same road as Sora, who she already recognized bearing many similar traits to Sora since young. This is further encouraged by Ikki's climbing of Tokyo Tower when he was a child, which resulted in him falling off and getting carried away by the eight-winged crow. Having already seen the signs in Ikki, she often approached Sora to talk about him, in fact Sora has commented before that she has only ever come to look for him to talk about Ikki since the day they parted. Rika tries to stop Ikki from AT-ing by challenging him in a match, but is defeated when Ikki exceeds her expectations. She then recognizes Ikki's strength, and supports his goal from that day on, though she still takes care to limit Ikki by locking his body with Heavy weights, which Ikki grows accustomed to quickly.
Rika has sworn off ATs, though she still retains her skills from that her prime. She does not play a role in the current power struggle in the AT world, though she is shown to be aware of it. Some evidence are that she guessed Kanon's motives in aggravating Ringo and Ikki into a fight, and that she advised Ringo to make up her mind about Ikki, who would surely become an enemy to Sleeping Forest in the future. However, there are no signs that she knows about Sora retaking his place as Wind King and making use of Ikki. Whether this is because Sora is keeping this from her or if she does not want to talk about it is unknown.
Just before the battle against Genesis, Sora reveals a captive Rika and is trying to force the current Sleeping Forest to give up their advantage in the forest. Mikan is the only one to choose to save Rika and also reveals that their sister is pregnant which is all the more reason to rescue her.