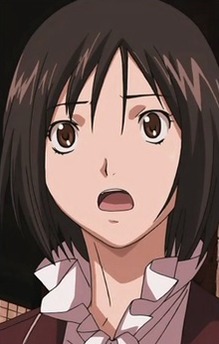 Emily Adachi
Along with Nakama Yayoi, Emily Adachi is part of the track team and used to look down on Ikki and his friends. However, after the incident between Ikki and Buccha, she has come to admire them. She and Yayoi are also the first to admonish them whenever they come up with something stupid (which is rather often). She has a big crush on Kazu.
She eventually joins the Kogarasumaru and acts as back-up. Even though her Air Treck skills aren't all that great, she seems to at times be able to summon up super strength and endurance, like taking hits from powerful storm riders brushing the hits off easily to her super powerful kicks and wrestling moves, through her pure strength of will and "The Power of Love". Currently she is an official member of Kogarasumaru, during the fight with White Wolf Clan she replaced Buccha after he was beaten by an old man with a cybernetic armor. While fighting, Emily and the others decided to win by beating the other team to a pulp. Currently she doesn't have a Road.
She plays a crucial part in Kogarasumaru's entry into the Gram Scale tournament, acting as the 'Panther' in an A-class virtual reality battle against a simulated former Sleeping Forest team. It is her grasping of the coveted balloon that ends the game in Kogarasumaru's favor.