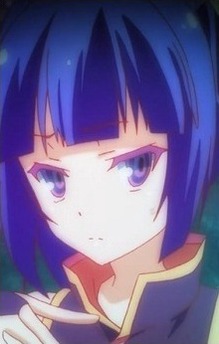 Chlammy Zell
クラミー・ツェル
A human who allied with the Elves in order to win the king's contest, due to her belief that humans will never be strong and must depend on others in order to survive.
She was born as a servant to an important family in Elven Gard, and was Feel (Fiel) Nilvalen's servant. Feel and Chlammy become friends, despite it is forbidden in Elven Gard and must keep it secret.
She got into the final round of the contest by cheating with the help of Elf magic, but lost to Sora and Shiro, who used her schemes against her. When Sora yelled at her for underestimating humans, she threw away her confident façade and broke down in tears while childishly calling Sora names. In the third light novel, she returns to challenge the siblings, only to lose again, as well as losing all of her memories to them. In the end, Sora chooses to share his and her memories between them, allowing her to recover her own memory, as well as having Sora's memory. She is astonished at Sora's past. Believing that Sora will fulfill his words to unite all races, she now assists Feel in claiming the leadership of Elves.