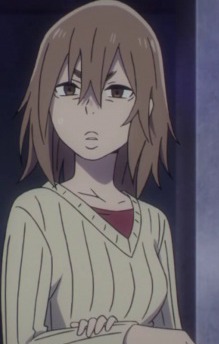 Akemi Hinazuki
Akemi Hinazuki is the mother of Kayo Hinazuki. She and her boyfriend physically abuse their daughter.
Akemi used to be abused by her husband. Shortly after she gave birth to Kayo, her mother forced her to leave her husband. Akemi and her mother became estranged since the divorce.
In flashbacks, it was hinted that Kayo looked very much like Akemi's ex-husband. This drove Akemi's abusive behavior against Kayo.
After Satoru and Gaku successfully managed to separate Kayo from Akemi, Kayo started living with her maternal grandmother, Akemi's estranged mother.