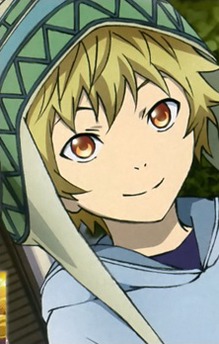 Yukine
While wandering about as a spirit, Yukine was picked up by Yato and made into a Shinki. When called "Sekki" he transforms into a katana.
In a katana form, he finds Yato's sweaty hands so disgusting that he calls him "Drippy."
He died at a young age, making him miss his normal life as a middle schooler. He acts like his age, and was once stealing money from people with the excuse that it's okay since he's dead. After being "saved" by Hiyori, he becomes more obedient and respects Yato and Hiyori. When he was alive he had trouble with his father as seen by Yato when he first obtains Yukine.
In Noragami Aragoto, he evolves into a Hafuri while trying to save Yato from Bishamon's attack. Since then he turns into a dual wield katana when called.