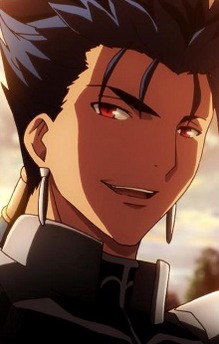 Lancer
ランサー
The first hostile Servant to appear in this story, Lancer is a fierce but balanced warrior who enjoys combating a worthy opponent. He has a playful attitude and takes a very carefree approach to life, but is quick to work himself into a frenzy during a heated battle. Lancers are hailed as the "Most Agile" of Servant classes.
Lancer was Cú Chulainn in his previous life. He used a spear named Gáe Bolg.
In Fate/Grand Order his servant class is that of Caster. Having manifested as a Caster, he apparently has imposed upon himself the role as one who guides. Not as a true druid, but as a temporary one, as long as he continues together with his master, he shall illuminate the path that the Master walks on.
In Fate/Grand Order: Moonlight/Lostroom his servant class is that of Berserker.