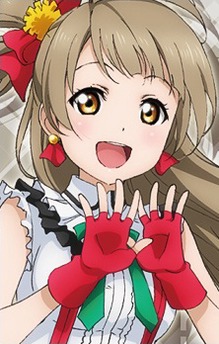 Kotori Minami
Minami Kotori is known for having her head in the clouds. Despite this, she is the group's designer. Kotori has a very huge aptitude for fashion, and is very good at drawing the costumes for the group. Kotori is shown to be very kind to her friends, and does genuinely care about them, especially about their feelings.
Kotori is also shown as the most indecisive person among all nine members, and tends to have Sonoda Umi and Kousaka Honoka, her childhood friends, make decisions for her. She also has a hard time expressing her feelings, since she always takes other people's feelings into consideration.
She is μ's wardrobe supervisor and helps with the choreography. It was discovered that Kotori worked in a maid café in Akihabara and is a famous maid named "Minalinsky." She was known as a "Legendary Maid" in Akihabara due to her kindness, cuteness, and soft voice. She also likes making candy.