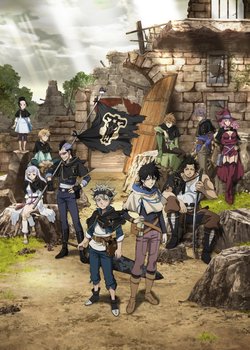 Black Clover
ブラッククローバー
In a world where magic is everything, Asta and Yuno are both found abandoned at a church on the same day. While Yuno is gifted with exceptional magical powers, Asta is the only one in this world without any. At the age of fifteen, both receive grimoires, magic books that amplify their holder's magic. Asta's is a rare Grimoire of Anti-Magic that negates and repels his opponent's spells. Being opposite but good rivals, Yuno and Asta are ready for the hardest of challenges to achieve their common dream: to be the Wizard King. Giving up is never an option!
Wait what? I just completed episode 160 and there is so way the story is ending in 10 eps.
Is the anime not complete??? nooooooooooooooooooooooooooooooooooooo
Just finished. Can't believe it turned out to be so much more than a guy screaming in each episode…
black clover ftw
Pretty good anime.
From the whole base of the show being about wizards and witches having Grimoires with clovers, I can't help but make jokes about it being in Ireland. (I haven't researched it, it might actually)
The main character is incredibly annoying for the first five episodes or so. I hate his voice.
The audio mixing is decent, but it'll go from too quiet to too loud almost spontaneously and constantly.
The ingerish is nice too; not as good as in Jojo though.
This show doesn't deserve too much praise so far, but hey, I'm only 23 EPs in.
When this show started airing, I tried it. I made it to episode 4 until I dropped it due to the main character voice. He's just too loud. However, now that she show is almost finished, (maybe just the first season) I'm going at it again. Took two years and a bit, though.
The only reason I'm watching it now is because I'm out of good anime I know of.
Pretty damn decent.
Just wait. If you like Naruto you'll like this. Lost of character development. But obvi its not going to be exactly like Naruto so try not to compare it too hard.
I didn't like the Naurto anime. I never watched past episode 7. I read the manga though.
wtf how can you not like naruto
I just think the manga was better, idk